The Showgirl with Legs to Write Home About
With more than a decade of experience under her G-String, Ariel Helvetica is everyone's type. She has boldly crossed the globe (and uncrossed her legs) in some of the top burlesque shows across Europe, Canada, and the USA. With her unique blend of glamour, cheese, and stratospheric high-kicks, this purveyor of Tits and Teeth has received many accolades, including performing twice at the Burlesque Hall of Fame, as well as being named one of 21st Century Burlesque Magazine's Most Influential Performers.
Underlining her performance bonafides, Ariel is also the Assistant Director of the Vancouver Burlesque Company, and in late 2021 she combined her burlesque prowess and showbiz moxie to create Helvetica Productions, which debuted with two sold-out shows of the holiday smash Tits the Season.

Send Ariel your love with a tip!

Spoil Ariel with a present!
Book Ariel Today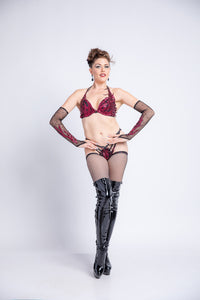 Here's what people are saying
"Ariel's talents are endless. Her whimsical sexy performances always leaves you wanting more. She brings class and sass. She will steal the show and blow everyone's mind."
- Jon